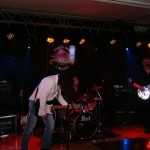 "High Intensity, tasteful, bluesy fused leads, It'll take you back and bring you forward again.", Guitar Nine Records, USA
"Michael Thomas mines a pleasing seam of gutsy, melancholic Americana, He demonstrates a versatility you don't hear all that often." Paul Ging,Classic Rock Magazine,  London, UK
"Great straight-forward rock and roll, along with some twists and turns."  Hal Selzer,  East Coast Rocker, USA
Biker Rallies
We've played biker rallies including The Snake Bite Rally, Hogs and Bogs and many other clubs and gatherings. Our shows work really well at these events (check out the promo video in the sidebar).
Along with our original set we play tribute shows as well as solo or duo acoustic performances with Caroline Ellis (see video in sidebar for examples).
1- 40th Anniversary Jimi Hendrix Show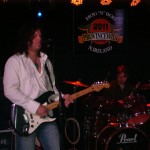 2- Pink Floyd Show with full lasers and smoke machine.
3- Beatles Show
4- Loup Garou- electric blues/soul/funk
5- "Twenty Flight Rock" 50's rock and roll show
6- House Concerts  More details on House Concert page
7-The Wreckers– an acoustic blues trio featuring harp and guitars.
8-Acoustic Country Duo
9-David Bowie-Elton John-Marc Bolan T-Rex shows
To Book us or ask questions click HERE