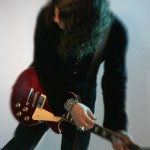 Guitarist, singer-songwriter, producer, Michael E. Thomas from the New Jersey/New York City/Philadelphia music scenes. He has toured the east coast of America to England and Ireland.
Michael performs solo/duo acoustic and full band shows locally and throughout the whole of Ireland and UK. 
"When Bullets Fly", has received rave reviews. It reached the top 10 for 5 weeks in June 2000, for the "Favorite New Artist" catagory by Broadband Talent Net and appeared in the July 2000 issue of Billboard International Magazine.
September 1999, The Michael E. Thomas Band performed an electrifing showcase before a captivated audience at their record release party for "When Bullets Fly" at "THE FEZ" in New York City. Michael's style of guitar playing involves creating soundscapes using a violin bow and an echoplex.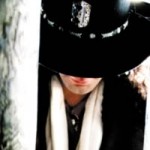 "When Bullets Fly"-1999 is drums, Steve Holley and bassist, Graham Maby. Other musicians on the record include T.M. Stevens. Percussion was handled by Jim Theobald and Susan Heerema, violin.
"Ruby In The Dust"-2004 is Steve Holley, drums, Guy Fleming, bass, John McCullough, piano,hammond organ, Susan Heerema, violin T.M. Stevens, bass Ed Mundell lead guitar as well as traditional Irish musicians.
"Acousticous Eruptous"-2005 is Nick Scott, bass  Peter McKinney, drums, Billy Boy Miskimmen, harmonica, Dick Glasgow, dulcimer and various stringed instruments, Peter O'Kane, boudrain, John Fitzsimmons, fiddle and musicians from traditional Irish band Bioga.
This being one of Michael's most popular releases, includes two cover songs. Ben Harper's "Steal My Kisses" and The Rolling Stones "Paint It Black". Michael has turned the original Stones tune into a tour de force guitar spotlight lasting over 12 minutes with various movements.
"Wreckless Abandon"-2006 is Marcelo Gilberto-bass/backing vocals Carlo Latorraca-drums. It also has Jeff Levine-Hammond Organ/keys. The album was recorded October 2005 at Shorefire Studios in New Jersey and mastered by UE Nastasi at Sterling Sound in New York in January 2006.
This album included Michael's third cover, Elton John's "Your Song". "Wreckless Abandon" is likely the heaviest release so far.
Here's what others are saying…
"Powerful, Gutsy, Melancholic Americana, Michael demonstrates a versatility you don't hear all that often." Paul Ging, Classic Rock Magazine, London, (May 2005)
"High Intensity, Tasteful Dramatic Guitar Rock", GUITAR NINE RECORDS (April 2005)
"The Michael E. Thomas Band may be the music scenes best kept secret."
"His style is incendiary, featuring sizzling blues runs and a screaming Strat attack." (The Chronicle, U.K.)
"Powerful performance!", (Shoreview, U.S.A.)
"Great straight-forward rock and roll, along with some twists and turns!" (East Coast Rocker,USA)

"He has fine musical imagination, Thomas used excellent judgement in bringing this group of musicians together. Pop/rock fans will find it's definitely worth buying a copy." (The Trentonian, USA)
Michael is a huge fan of (James Gang/Deep Purple) guitarist, TOMMY BOLIN. He payed tribute to him on the solo to "Honey Child" on the "When Bullets Fly" album.